6 Ways to Plan an Event in Uptown at State & Allen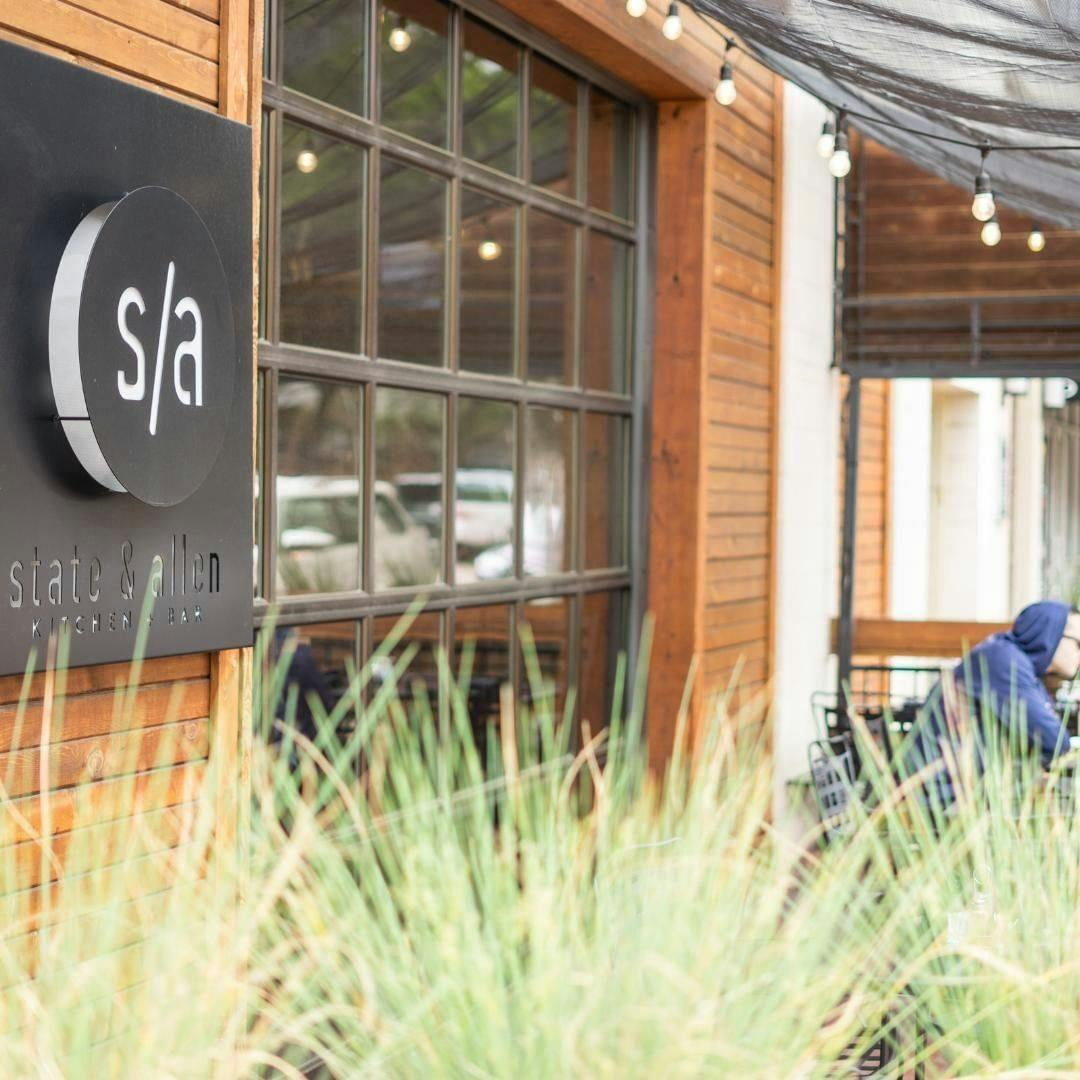 Looking for a laid-back event venue in Uptown with a welcoming atmosphere to host your holiday party this season? State & Allen bar and restaurant in Uptown has endless options to accommodate parties big and small. From our newly renovated private Bourbon and Bubbles room to our cocktail patio, our team can help you plan a party that fits your vision and budget. Whether you're planning a traditional Christmas party, cocktail happy hour, or a New Years' party, at State & Allen we have several different areas available to reserve for events.
Cocktail Area
Our Cocktail Area is the perfect spot to host a work happy hour or a get-together for a large family or group of friends. There is plenty of room for everyone to relax and unwind! This spacious area seats up to 100 people cocktail-style and 75 people seated. Plan your event during happy hour for a killer deal on drinks.
Cocktail Patio
You can always count on the heat in Dallas, no doubt we still see warm days in November and December. Our cocktail patio at State & Allen can accommodate 50 people seated or 75 people cocktail style and is a great spot for fun in the sun. Our cocktail patio is casual but inviting, and a great location for a holiday party. Invite all your friends and family to mingle and celebrate the holidays right.
Den
Our Den is cozy and can accommodate up to 65 people cocktail style and 50 people seated. Host your co-workers for a little escape from the office. Did you know on Mondays we offer half-price pizzas, too? Order a ton of pizzas and enjoy a cold beer in our den with your work friends who feel more like family. Reserve the den for your next private party because it's the best place in Uptown to relax after a long day!
Den Patio
Maybe your party prefers to hang out and sip a drink on the best patio in Uptown. Our Den Patio holds up to 40 people cocktail style and 35 people seated. Our den patio can accommodate any occasion, like ugly sweater parties and gift exchanges. We understand the holiday season can feel busy and draining, but you deserve to have fun too! Reserve our den patio to host a holiday event your friends and family won't forget.
Bourbon & Bubbles Room
Enjoy the holiday festivities in our private party room! Our latest and greatest renovated party spot is the revamped Bourbon & Bubbles Room, a private party room in Uptown that can hold up to 45 people cocktail-style or 30 people seated and is perfect for any occasion. Whether you're planning to host a holiday pop-up event, girls' night out, or a traditional Christmas party, our team can work to accommodate the fun!
Bourbon & Bubbles Patio
Maybe you're wondering if you can reserve a patio in Uptown for a private party? The Bourbon & Bubbles Patio space is the best patio for a private party. We got you covered, our patio can seat 20 people seated or 25 people cocktail style. The intimate Bourbon & Bubbles patio space is excellent for celebrating an engagement or big milestone with the ones you love the most!
Plan Your Private Event in Uptown Today
Looking for the perfect party venue in Dallas? At State & Allen, we offer many different ways to party! From our private party room to our patio options, we can help you host the holiday party of the season. It's no secret our restaurant in Uptown, Dallas is the perfect place to host baby showers, engagement parties, private dining, corporate meetings, or whatever else you may need too! And, don't forget to ask about our all-inclusive pricing. Book your event today!