Best Date Night in Uptown for Valentine's Day`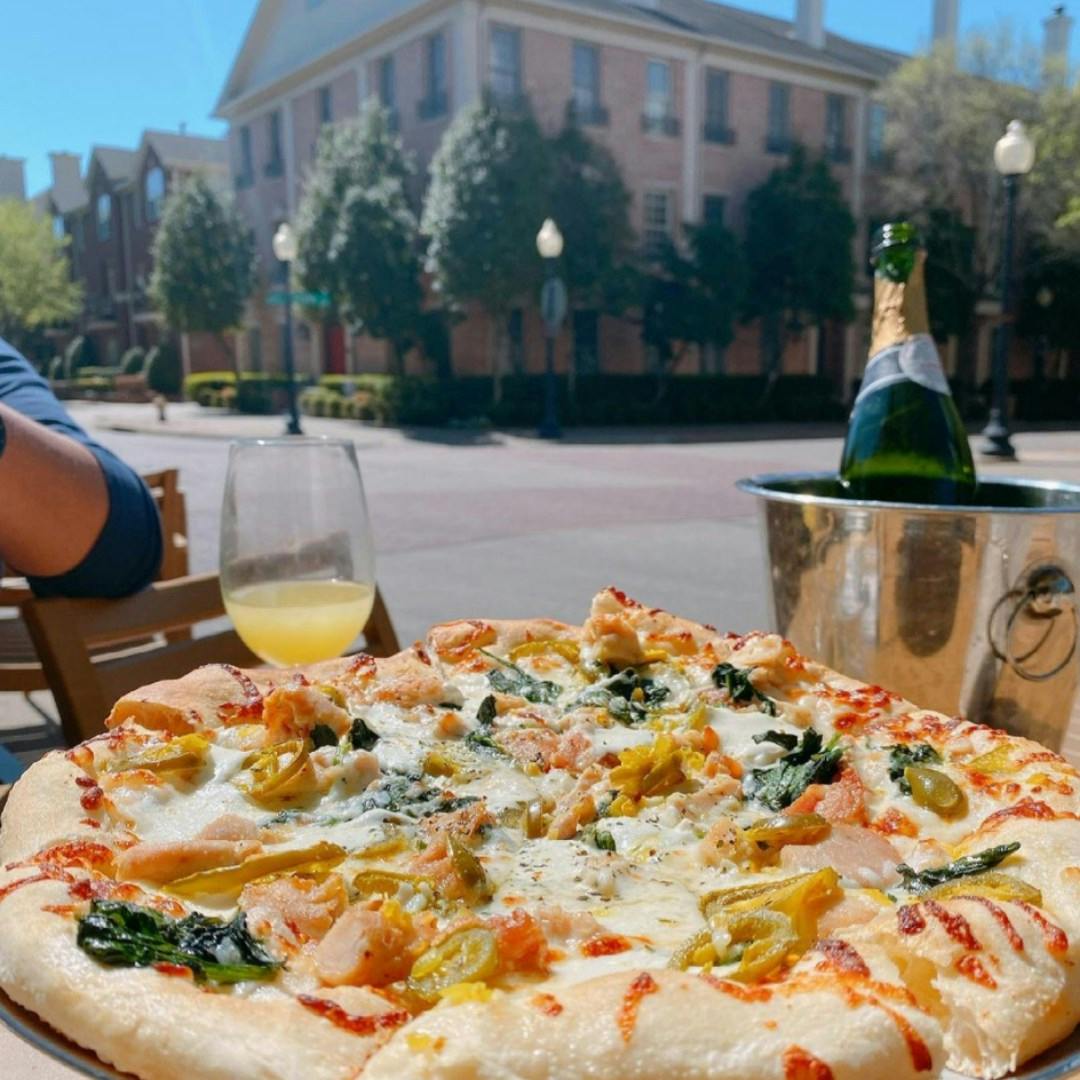 Book your table at State & Allen for the best date night in Dallas to celebrate Valentine's Day. Our restaurant is located in the heart of Uptown, Dallas, and our space has a variety of atmospheres to accommodate any occasion. It doesn't matter when you plan to celebrate the holiday either, because we offer incredible food and drink specials every day of the week! From a girl's night out to celebrate Galentine's Day or a romantic date night out on the town, look no further for the best restaurant in Dallas for Valentine's Day festivities.
Check out our daily specials below so you can plan the perfect date night in Uptown! Whether you're a big pizza fan, prefer a more comforting dish like grilled, or maybe a traditional fish & chips lover, either way, our daily specials are unbeatable! While Valentine's day falls on a Monday this year, invite your date or bestie to come by for half-price pizza and indulge in the cheesiest and best pizza in Dallas.
Daily Specials at State & Allen
MONDAY
half price pizza
TUESDAY
fish tacos $9.95
camarena ranch waters $5.00
WEDNESDAY
chef's grilled cheese day
1/2 price wine
(by the glass or bottle)
(excludes bubbles & house wines)
THURSDAY
Texican Thursdays
well mules $5.00
FRIDAY
fish & chips $9.95
all-day happy hour
$5 pendleton whiskey, new amsterdam vodka & camarena tequila
SATURDAY AND SUNDAY BRUNCH SPECIALS
mimosas
(glass) $4.00
(bottle) $20.00
breakfast drinks $4.50
screwdriver, greyhound, bloody mary, tequila sunrise
pomp & whimsy spritz $5.00
pomp & whimsy gin Liqueur & grapefruit with a splash of Champagne
SUNDAY
wells $3.50
(only available after brunch)
Let's not forget about the best happy hour in Uptown at State & Allen! Come by and have a drink and a yummy snack to kick off Valentine's Day shenanigans. Enjoy our gorgeous patio or take a seat at the bar and relax with a cold drink in hand. It's true we have the best happy hour in Dallas Monday through Friday from 3:00 PM to 7:00 PM. And, don't forget on Fridays we offer the one and only and best ALL DAY happy hour, and yes you read that right all day long!
Happy Hour Specials
BEER BY THE CAN
Bud Light, Budweiser, Coors Light, Miller Lite
$3.50
NEW AMSTERDAM VODKA, PENDLETON WHISKEY, CAMARENA TEQUILA
$3.50
HOUSE RED, WHITE OR ROSE
$4.50
Wait, maybe your Valentine is a whiskey lover? Take a look at our incredible $6 Whiskey List we offer every day of the week!
$6 Whiskey List
BUFFALO TRACE
BULLEIT RYE
CROWN ROYAL
HIGHWEST DOUBLE RYE
PENDLETON
KNOB CREEK
MAKERS MARK
REDEMPTION RYE
STILL AUSTIN BOURBON
SLOW & LOW
TEELING SMALL BATCH
1792 BOURBON
You're invited to come out and celebrate Valentine's Day at State & Allen and experience our incredible daily food and drink specials, the best happy hour in Uptown, and of course our famous $6 whiskey listl! Don't stress about waiting around for a table or fighting Valentine's Day crowds. Great news, we offer online reservations that allow you to book in advance to ensure you will have a table at a time that's convenient for you. Book your table today!