4 Ways to Cut Calories when Dining Out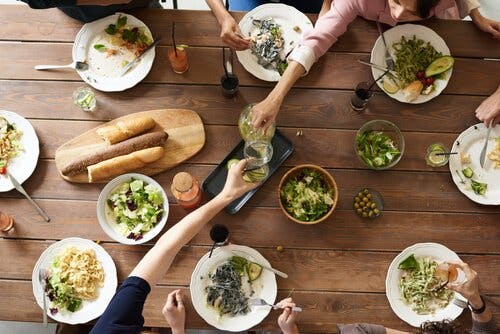 4 Ways to Cut Calories when Dining Out
Between the holidays and more time at home last year, many people are looking to press reset on their health goals. You may think that just because you are trying to cut calories that eating out isn't an option, but that simply isn't true! There are things you can do to indulge in the joy of dining out – all while maintaining your health goals. Here are 4 tips from the chefs at State & Allen:
Have a Snack an Hour Before
The ambiance is relaxed. The company is great. And you just want to let loose and indulge a little! After all, that's why you are dining out in the first place, right? If you're concerned about overeating, plan to eat a snack that is high in fiber and protein before heading out to lunch or dinner. The desire to overeat can get you when your stomach is crying for food, so curb the appetite and set the stage for a successful meal out.
Order Smart
First off, take your time and fully digest the menu before ordering. When you find a dish that you love, think about if there is a simple way to cut calories without cutting the flavor. Maybe you could substitute out a baked potato or French fries for roasted veggies? These little swaps can go a long way to cutting unwanted calories. Also – consider ordering before everyone else. This gives you the opportunity to get your order out there before you are tempted to change it when you hear what someone else is getting.
Go Slow on the Cocktails
Another way to cut calories is to save your cocktails or wine until the main course. When you begin drinking early, it often loosens your inhibitions and may make you more likely to dismiss your health goals by the time the main dish is served. One way to do this effectively is to order water and a salad to start, then order a drink with your main entrée. It's a simple way to do the best of both!
Get It All on the Side
Burger? Pasta? Salad? Get everything on the side! Yes, this sounds extreme, but the more you are able to break down your meal, the more control you have over how much of everything is in it. Dressing on the side is a no-brainer, but even a hamburger can be decomposed to offer you the choice to add what makes sense for you.
Who's ready for a night out?! Come see us this week at State & Allen Kitchen + Bar, one of the best restaurants in Dallas for cocktails, wine and appetizers, dinner, and more.