5 Sandwiches to Try This Week at State & Allen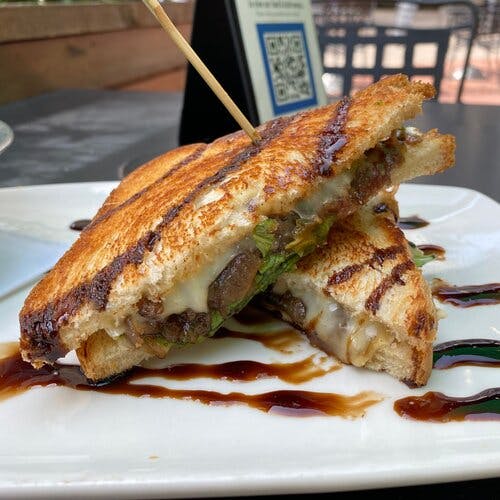 5 Sandwiches to Try This Week
Ever get in a rut when it comes to lunch spots? If you haven't been to State & Allen for lunch in a while, then it's time to come see us again! Not only are we excited that things are getting back to normal around here, but we also made some changes to our menu recently. Those changes included the addition of several new sandwiches that are already getting great reviews from guests.
So what sandwiches (and handhelds) should I try? Here are 5 sandwiches to come in and try this week at State & Allen Kitchen + Bar:
1. Bacon & Brie Grilled Cheese
This one is back by popular demand! Our chefs whipped this up as a special back in January and so many guests were asking for it after it was gone, we decided to make it a permanent spot on the menu. The secret ingredient is a bacon-onion jam, accompanied by the flavors of bacon, brie, Balsamic reduction, and arugula. It's all melted together on delicious sourdough for the perfect finish.
2. Smoked Turkey Club
Classic. Sophisticated. Simple. The Smoked Turkey Club continues to please! We start with artisanal whole wheat bread, then slather on some cranberry mayo, and pack it down with house-smoked turkey, bacon, avocado, Swiss cheese, and crunchy lettuce. It's your classic turkey sandwich – elevated.
3. Sunrise Burger
Burgers are sandwiches, right? We love this burger because it makes a great brunch option, any day of the week. What makes this burger unique is the sunny-side egg layered on top of the juicy, signature beef patty. The Sunrise Burger is completed by cheddar, bacon, and chipotle mayo on a challah bun. Haven't ever tried an egg on a burger? It's time!
4. Crab Cake Sammy
Need a seafood fix? The Crab Cake Sammy is where it's at! We love the paired flavors of the crab cake with tomato and arugula, and the chipotle mayo finishes off the hoagie nicely. Order a side of fruit and you have a complete meal.
5. Baja Chicken
Skip the chain restaurant chicken sandwich and come try ours! We know you won't be disappointed with this fabulous bite. Tender chicken breast, avocado, pepper jack cheese, corn pico, and chipotle mayo make one delicious sandwich combination!
Lunch is Served at State & Allen
Did one of these sandwiches catch your eye? Make plans to come see us this week for lunch at State & Allen. We have these sandwiches and other fabulous dishes, including pizza, salads, bistro favorites, and more. Our restaurant is located at the corner of State St. and Allen St. in Dallas, Texas, and we are open for dine-in, carryout, and delivery in Uptown Dallas.