5 Tips for Roasting the Perfect Turkey at Home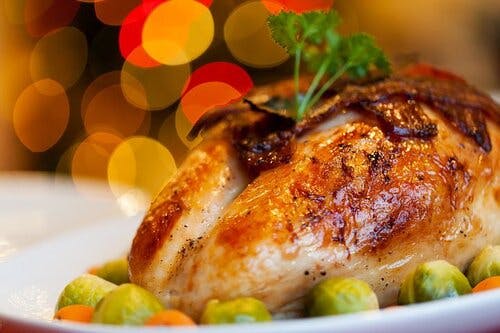 Are you hosting Thanksgiving this year?
If so, then you may be a little nervous about cooking the turkey. We get it. All eyes are on you and no one wants a Christmas Vacation moment as the turkey is carved!
If you're planning to roast your own turkey this year, State & Allen, your favorite Uptown Dallas restaurant, has a few tips on how to get perfect results that are sure to impress. Here are 5 things you must do when roasting the perfect turkey:
1. Buy the Right Size Bird
Sometimes it's tricky to know how much meat to buy. A good rule of thumb is to plan for 1.5 pounds of meat per person. This ensures you have enough for everyone, accounting for the real star of Thanksgiving: plenty of leftovers!
2. Brine the Bird
Want to know the secret to the most flavorful, juicy turkey? Brining. Brining is the process of soaking your meat in a mixture of water, salt, and other herbs for a period of time to allow the flavors to infuse into the meat. Plan to brine your meat overnight before cooking, and you are sure to have a delicious, flavorful Thanksgiving turkey.
3. Keep the Oven Closed
It's tempting to check on your turkey or to want to baste it throughout the cooking process. The problem is that the more times you open the oven, the more you are allowing the oven temperatures to fluctuate, meat to dry out, etc. Instead, you can ensure a moist bird as good as the top Dallas restaurants by brining or slathering it with butter before beginning the roasting process.
4. Keep Meat Elevated
In order to produce optimal airflow around your turkey as it cooks, plan to cook your turkey on a roasting rack or on a bed of vegetables for added flavor. This added air circulation helps the turkey cook more evenly and produce a crispier skin. Extra tip: Reserve drippings for a delicious gravy to accompany your finished turkey!
5. Let it Rest
Plan to have your turkey done about 30 minutes before you are ready to serve. This way, you can let it rest and redistribute juices before carving. In order to do this, cover your turkey loosely with foil to keep warm and wait. The result – a delicious turkey your guests will rave about!
Don't Want to Cook? Let State & Allen Provide Your Turkey Dinner!
Thanksgiving is the perfect time to try State & Allen's family-style meals! With three Thanksgiving meal options, there's something that's just the right fit for your Thanksgiving gathering. All Thanksgiving meals serve six and includes sides and a dessert! The best part? Your meal will be chef-prepared by the kitchen at your favorite neighborhood restaurant: State & Allen. 2020 has been hard enough; skip the hassle this year and let us cover Thanksgiving Dinner. To order, visit here.
NOVEMBER 10, 2020