An Effortlessly Fun And Affordable Restaurant In Uptown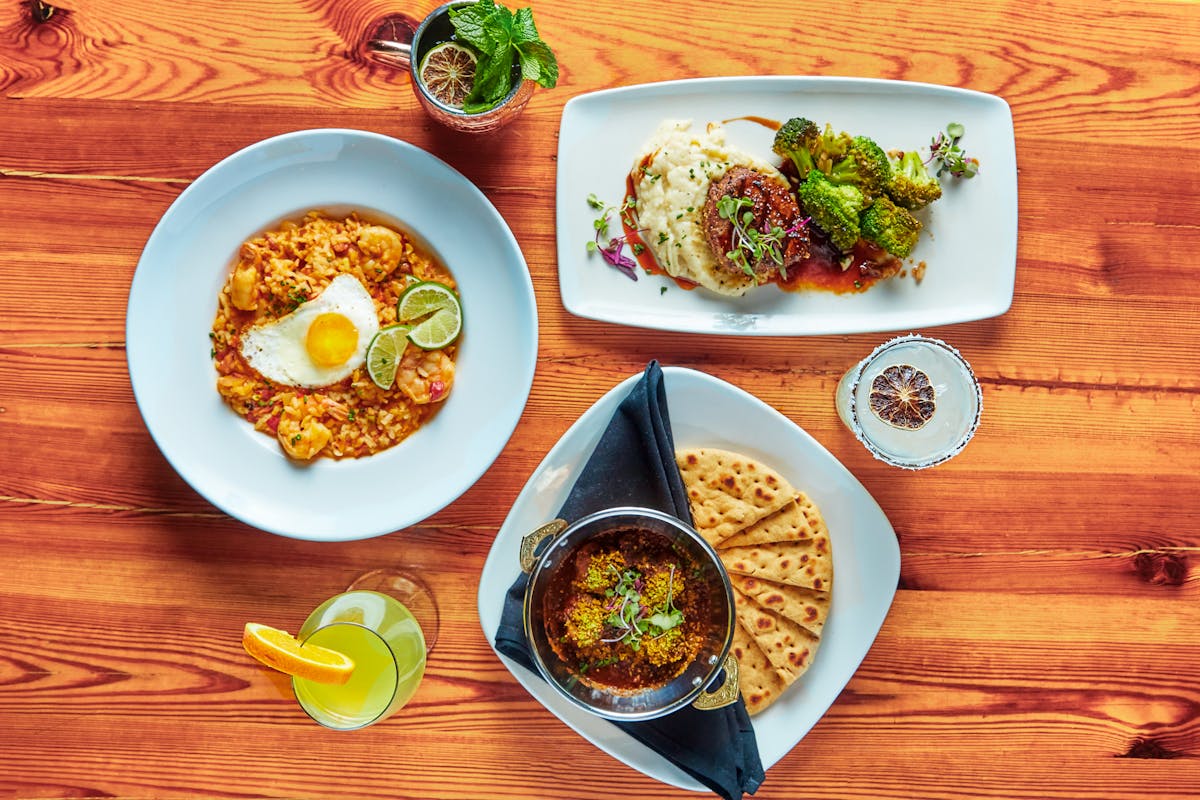 State & Allen is an impressive restaurant in Uptown for dinner or date night in Dallas. Here's how to experience the best dinner in Dallas without breaking the bank!
It's no secret that Uptown Dallas is home to many of the best restaurants in DFW. Uptown Dallas is one of the most sought-out neighborhoods because of its cozy, city feel and unique, neighborly charm. With so many options for dinner, drinks, or date night in Dallas, it might feel overwhelming to narrow it down, and if you're not careful it can become pricey pretty quick. Problem solved: come hang out at State & Allen our restaurant in Uptown Dallas!. We serve up an impressive dinner that won't break the bank and have the best happy hour in Dallas!
3 Ways To Do Dinner in Uptown Without Breaking The Bank

The best time to go out for dinner in Dallas is always during happy hour! Happy Hour at State & Allen is every weekday Monday-Friday from 3:00 PM - 7:00 PM. Our drink specials offer a little something for everyone, from select canned beers to fruity seltzers, house wines, and more. You'll be tempted to try them all. Pair one of our drinks specials with one of our daily food specials, and you're set for a meal that's delicious and affordable. And, guess what?! On Friday's happy hour is ALL DAY! Come by after work to decompress on our patio or indulge in a fun night out with friends.
(Dine-in only Monday-Friday from 3-7 pm.)
BEER BY THE CAN $3.50
Bud Light, Budweiser, Coors Light, Miller Lite


NEW AMSTERDAM VODKA, JIM BEAM, CAMARENA TEQUILA $3.50


MIKE'S SELTZER $3.50
Mango, Lemon, Pineapple, Strawberry


HOUSE RED, WHITE OR ROSE $4.50


No matter the day of the week, State & Allen has daily dine-in specials that just can't be beat! We know there are tons of restaurants in Uptown, Dallas, but dinner with us is one you surely won't forget. Relish in a meal on our patio or drinks at the bar and catch the Ranger's game. We strive to be your go-to restaurant in Uptown and your home away from home that's effortlessly fun, yet reasonably priced.
Daily Specials At State & Allen
(All specials are available for dine-in only. Ask server for details.)
MONDAY
half price pizza
TUESDAY
fish tacos $9.95
camarena ranch waters $5.00
WEDNESDAY
chef's grilled cheese day
1/2 price wine
(By the glass or bottle. Excludes bubbles & house wines)

THURSDAY
Texican Thursdays
well mules $5.00
FRIDAY
fish & chips $9.95
all-day happy hour
$5 jim bean, new amsterdam & camarena
SATURDAY AND SUNDAY BRUNCH SPECIALS
mimosas
(glass) $4.00
(bottle) $20.00
breakfast drinks $4.50
screwdriver, greyhound, bloody mary, tequila sunrise
SUNDAY
wells $3.50
(only available after brunch)
Feeling exhausted with no energy to cook? Or maybe you're rushing to a fun BBQ after work. State & Allen can handle dinner and the booze run all in one. Order dinner and to-go canned beers, ciders, and seltzers to bring along to the pool, or to enjoy shamelessly on the couch in your pajamas. Our canned beverages are fully sealed to travel nicely and safely from our restaurant to your next destination!
Canned Beer, Cider, and Seltzers
AUSTIN EASTCIDERS
Original Cider 5% ABV
$5.50
BISHOP CREEK CIDER
Crackberry 6% ABV
$5.75
BUD LIGHT
$4.50
BUDWEISER
$4.50
COORS LIGHT
$4.50
DEEP ELLUM BLONDE
Blonde ale 7% ABV
$6.00
DEEP ELLUM IPA
American IPA 7.5% ABV
$6.50
DOS EQUIS LAGER
$5.50
BITTER SISTERS FAMILY TRIP
Belgium tripel 10.1% ABV
$7.00
GUINNESS DRAUGHT
$7.00
MILLER LITE
$4.50
MANHATTAN PROJECT HALF LIFE
Hazy IPA 6.2% ABV
$8.00
MODELO ESPECIAL
$5.50
PEGASUS CITY CANNONEER
Amber 7.4% ABV
$6.50
SAINT ARNOLD LAWNMOWER
Kolsch 4.9% ABV
$5.50
SAINT ARNOLD ROOT BEER
Non-alcoholic
$3.50
STELLA ARTOIS
$6.50
WHITE CLAW
Black cherry, grapefruit, or watermelon
$6.00
MIKE'S HARD SELTZER
lemon, strawberry, pineapple, mango
$6.00
There is no wrong way to do dinner, drinks, or date night! Come by our restaurant in Uptown for the best dinner in Dallas, unbeatable daily specials, or grab some takeout to-go. Make a reservation through the Open Table app or place an online order today!