Beat the Cold with Warm Comfort Food at State & Allen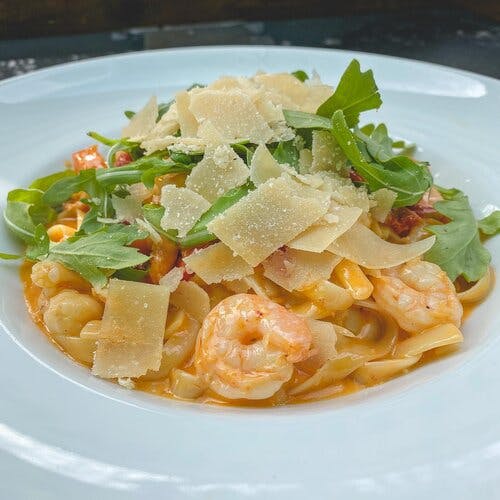 Beat the Cold with Warm Comfort Food at State & Allen
When the days are cold, and short, and you simply need a pick-me-up, come see us at State & Allen. Our menu is chock full of delicious, warm favorites that are the perfect comfort food. Everything from the food, to the atmosphere, to the service are sure to lighten your mood!
So what's on the menu? Here are 5 of our top comfort food favorites we recommend you come in and enjoy immediately:
Brick Oven Crab Dip
While not necessarily an entrée, every meal should start with the ooey-gooey goodness of Brick Oven Crab Dip. This tasty dip combines tender lump crab, cheese, and more, then gets fired in the oven for a perfectly crispy top. Served with spiced crackers and tortilla chips, you are in for a real treat.
Chicken Tortilla Soup
Warm soup is always the right choice on a cold winter day, and our Chicken Tortilla Soup is nothing less than stellar! It comes in 2 sizes – cup and bowl – making it wonderful as an entrée (perfect for a light lunch!) or side.
Shrimp Fettuccine
We've added and subtracted many things from our menu over the years, but one thing always stays the same: The Shrimp Fettuccine. And for good reason: it's delicious! Guests love this popular pasta dish for its crispy bacon, sun-dried tomatoes, al dente pasta, and of course, the creamy smoked fresno sauce. Order this and you won't be disappointed!
Italia Grilled Cheese
At State & Allen, we know how to make a mean grilled cheese. Sure, we have the standard bread and cheese, but we take it up a notch with a few added favorites. Ours takes on an Italian feel with basil pesto, spinach artichoke dip, and tomato, all added in with fresh mozzarella and then melted to perfection on rustic white bread. The result: the best-grilled cheese ever.
Gourmet Pizza
Have you tried the pizza at State & Allen Kitchen + Bar? If not, you are in for a treat! There are so many artisan choices to choose from: The Tony with garlic oil and chicken, the White with a truffle bechamel sauce, the Meaty Meat with all the trimmings, the Wild Mushroom, and more. Choose one of our gourmet specialty pizzas or choose to build your own – either way, it will be delicious.
Need Comfort Food in Dallas? Come see us at State & Allen!
When the weather is cold and dreary weather has got you down, get a little pick-me-up by visiting us at one of the best restaurants in Uptown, State & Allen! Our warm entrees and handcrafted cocktails are sure to raise your spirits! We are open for dine-in, carryout, and delivery for lunch, dinner, and weekend brunch.