Chef-Prepared Thanksgiving Dinner To-Go From State & Allen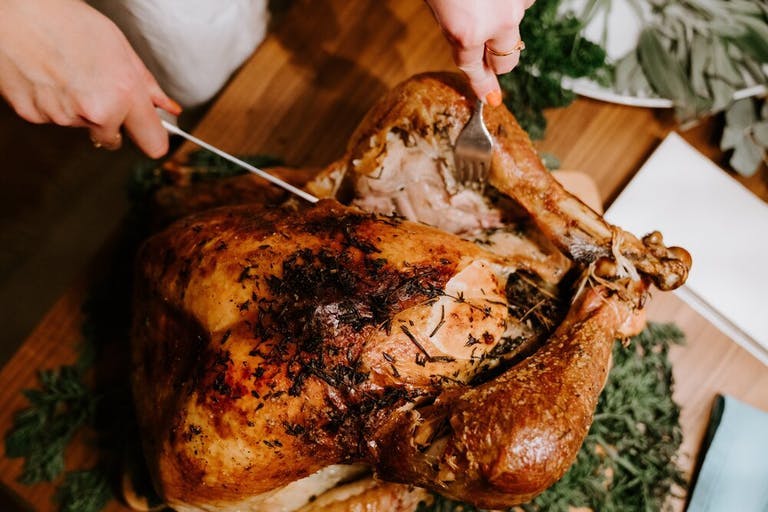 At State & Allen, you'll find the best Thanksgiving dinner to go in Dallas. Catering for Thanksgiving is the best gift you can give yourself this holiday season. And let's not forget, Thanksgiving turkey doesn't have to be complicated. Nobody has time for hours of cooking, piles of dishes, and weeks of planning. Order Thanksgiving dinner online and let us handle the stress and the mess so you can be present with friends and family and enjoy what matters most.
Chef-Prepared Thanksgiving Dinner To-Go
Order one of our Chef - Prepared meals for your Thanksgiving feast. All of our meals are made with fresh ingredients of the highest quality and serve 6 people. Thanksgiving meals are fully cooked in advance but require reheating before serving.
Thanksgiving Family Meal Protein Options Include:
Smoked Whole Turkey
Smoked Turkey Breast
All meals include brown gravy, garlic mashed potatoes, green bean casserole, andouille sausage dressing (stuffing), cranberry sauce, rolls, and of course a 10" pumpkin pie.
If your crew appreciates variety, add on an Orange Glazed Ham to complete the feast!
Thanksgiving Drink Recipes
A feast isn't complete without a delicious drink to accompany it! Try one of these festive drink recipes to kick off the holiday fun.
Cranberry Mimosas
Mimosas are always popular and let's be honest, an excuse to drink before noon. Top off a classic mimosa with a splash of cranberry juice to bring in some holiday flavors and mix it up.
Ingredients
Champagne
Cranberry Juice
Lime Wedge
A handful of Fresh Cranberry
Sprigs of Fresh Rosemary for Garnish
Caramel Apple Mule
A Moscow mule is already super tasty, but let's make it a little sweeter by adding some seasonal aromas. The caramel takes this cocktail to the next level.
Ingredients
Caramel Vodka
Apple Cider
Ginger Beer
Lime Juice
Sliced Apples for Garnish
Apple Cider Old Fashioned
Calling all whiskey lovers, this cocktail is for you and puts a unique spin on a tradition. What could be better than a mix of the holiday season and your favorite whiskey?
Ingredients
Whiskey
Apple Cider
Dash of Angostura bitters
Apple Slices and Cinnamon Sticks for Garnish
Pecan Pie Martini
Martinis always appear so innocent, but they tend to be the strongest. These flavors combined make for a sweet treat that's just right for dessert.
Ingredients
Bourbon
Rumchata
Creme De Cocoa
Chopped pecans, Cinnamon, and Caramel for Garnish
Pumpkin Pie Sangria
Attention all wine lovers, this twist on Sangria is the perfect party starter. The flavors of thanksgiving turkey paired with a cold glass of Pumpkin Pie Sangria are to die for.
Ingredients
Bottle of White Wine
Bottle of Sparkling Cider
Pumpkin Pie Vodka
1 Pear Chopped
1 Apple Chopped
Sugar and Pumpkin Spice
Cinnamon Sticks for Garnish
You won't regret ordering from Savory Catering for Thanksgiving dinner this year. Don't waste hours online looking up the best thanksgiving dinner near me. Our family meals are stress and mess-free, so you can have time to focus on what matters and spend more time with family and friends. Reserve your Thanksgiving dinner to go today!