Come Brunch with Us at State & Allen!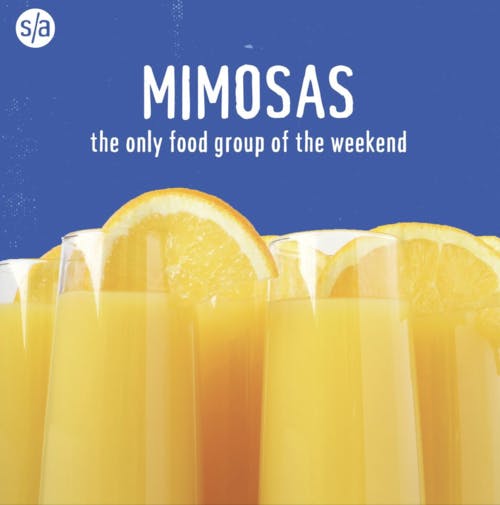 It has been a long week, and you deserve a brunch with friends. Sleep in, then head over to see us at State & Allen Kitchen + Bar for a delicious brunch you will simply love.
In fact, did you know we recently updated our brunch menu? Our entire menu got a facelift, including our brunch options, so you'll see some old favorites, but lots of new dishes you will want to try. So what's on the menu? Here are a few delicious reasons to join us this week for brunch:
Amazing All-New Menu
Don't worry! Our regulars always get nervous when we say we're updating the menu, but we think you'll love these brunch updates. There is truly something for everyone. Sweet, savory, light and healthy, etc.
We have the traditional favorites you love like The Giant – a dish that includes 2 eggs, biscuits, gravy, bacon, and potato hash – or the Caprese Egg White Omelet with tomato, pesto, fresh mozzarella, veggie sausage, and a Balsamic reduction. Both of these have been on our menu for years and guests simply love them. Want something handheld? The Eggwich is great with crispy onions added as a secret ingredient to this croissant egg, and ham sandwich.
But we now offer even more you'll love! One of those new additions is the Banana Pancakes. Fluffy pancakes with candied pecans, duce de leche, whipped cream, and syrup are sure hard to beat. And many of you asked for the Breakfast Pizza to become a regular menu option, and we have made it happen! Our breakfast pizza includes eggs, bacon, ham, mozzarella, cheddar, pico, avocado, and jalapenos. We're also getting great reviews on the new Pulled Polk Huevos Rancheros for getting your morning Tex-Mex fix. All of our brunch menu items use only pasture-raised chicken eggs.
Brunch Cocktails
Brunch isn't complete with a great cocktail! We have bloody marys, screwdrivers, mimosas, manmosas, and more. Pick your poison and enjoy with your favorite entrée. We simply love sipping a great brunch cocktail as we enjoy watching the sights and catching up with friends.
Your Dog Can Join us on the Patio!
Did you know we were the first dog-friendly patio in Dallas? That's right! You can take your dog for a walk, then finish the walk with brunch at State & Allen. We were dog-friendly before dog-friendly was cool, and we truly love seeing your furry best friend join you for a little brunch on the patio.
Who's Ready for Brunch?!
We would love to have you join us this weekend at one of the best restaurants near Dallas for brunch and experience all of the exciting new menu items available. Our weekend brunch is offered from 10am-3pm on Saturday and Sunday, and we are conveniently located at the corner of State St. and Allen St. in Uptown Dallas.
MARCH 15, 2021