Escape the Holiday Hustle with Lunch at State & Allen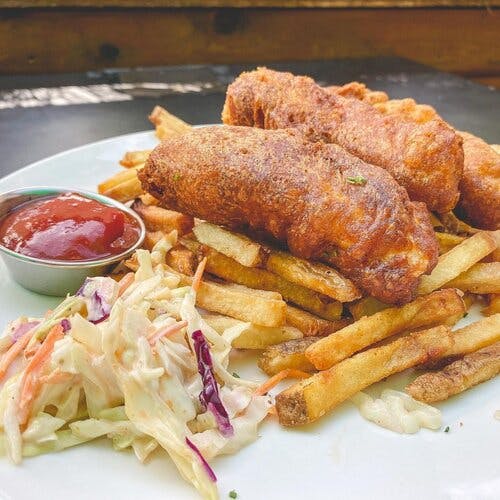 Did you know the holiday blues are a real thing?!
There is simply so much to do! Shopping, menu planning, parties, gift wrapping…the list goes on and on. Even in a year when many holiday celebrations have been canceled or paired down, we still have so much on our plates this time of year, and frankly, it can be downright stressful.
State & Allen is here to help! With delicious entrees and thirst-quenching beverages, State & Allen is your safe haven from all the holiday hustle and bustle. When you need a break and a great lunch, come see us! Here's what you can expect when you join us for the best lunch in Dallas:
Crunchy, Fresh Salads
When you want a healthy lunch, the salads at State & Allen fit the bill. Each of our 3 salads – the Silver Bowl, Mediterranean, and the Caesar – are fresh and delicious, with generous portions that are sure to fill you up. Which one is the most popular, you ask? It's the Silver Bowl Salad all the way! Our regulars can't get enough of this salad, loaded with bacon, grapes, red peppers, oranges, and spicy chicken on a bed of romaine, then drizzled in 2 dressings – Balsamic Vinaigrette and Caesar.
Bistro Favorites
Think of State & Allen as your local, Uptown bistro, serving delicious, scratch kitchen fare for the best lunch in Dallas. Our Shrimp Fettucine is always popular on a cold December day, featuring a smoked Fresno cream sauce that is out of this world! Want something more daring? The Love Love Bowl packs a punch with Sriracha sauce, aborio, con, pico, bacon, bell peppers, a sunny side up egg, and your choice of chicken or shrimp. These are just two of our most popular entrees you are sure to love for lunch!
Stellar Sammies
These sandwiches are anything but boring! State & Allen offers tons of variety to offer something for everyone. Sure, we have traditional favorites like the Smoked Turkey Club, but we also have more adventurous options like the Italia Grilled Cheese, a warm grilled cheese sandwich loaded with basil pesto and tomato and served with warm spinach artichoke dip. Burgers are also a hot lunch item, with the Mushroom Swiss Burger and Bacon Avocado Burger topping the list. Each sandwich is served with your choice of fresh-cut French fries or side salad, or select from elotes, fruit, soup, or sweet potato fries for a little bit extra.
Who's Ready for Lunch?!
Escape the stress of the season with a delicious lunch at State & Allen! Our meals are available for dine-in, carryout, or delivery, offering three convenient ways to enjoy the best lunch in Dallas.
See you this week at State & Allen Kitchen + Bar!
DECEMBER 15, 2020