Have a Pizza & Wine Night at State & Allen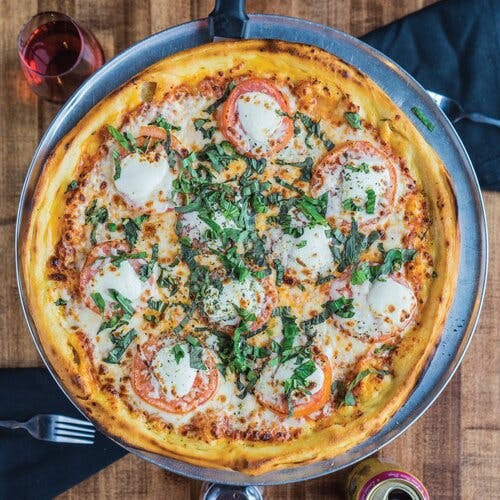 Have a Pizza & Wine Night at State & Allen
Is it Friday yet?
Friday nights (or any night really) are for pizza and wine. It's great to unwind after a long week with a glass of wine and a delicious, artisan pizza to go with it. At State & Allen, we have a delicious menu - including incredible pizzas and a great selection of wines to pair. You can order our pizzas to enjoy at home, and of course, we'd love to have you join us in our dining room as well. Let's explore a little bit more about some of our favorite pizzas and great wine pairings for each:
The Tony
This pizza is light and fresh, featuring a garlic oil base. The toppings – chicken, goat cheese, kalamata olives, and pickled jalapenos – provide a savory pizza that isn't too heavy.
Wine pairings: What wine to enjoy? We'd recommend a Pinot Grigio or even a Rosé, since each is medium-bodied and does well to bring out the flavors of the pizza without overpowering it.
Classic Pepperoni
It's hard to beat a classic! Guests love this food in Dallas. Our gourmet pepperonis, freshly grated mozzarella, and deep red sauce are hard to beat. And bonus – our red sauce is made in-house, providing a freshness you can taste in every bite.
Wine pairings: With a pepperoni pizza, light wines are out. They just don't do the pizza justice. Instead, pick something like a Sangiovese or other moderate red wine that cuts the fat and saltiness in the pepperoni.
Meaty Meat
Oh boy – bring on the meat! When you're hungry, only the Meaty Meat will satisfy. This pizza has it all: Italian sausage, pepperoni, and ham with a classic red sauce and mozzarella. Just be sure to bring your appetite.
Wine pairings: a heavy pizza like this calls for a full-bodied red wine. Think Cabernet Sauvignon, Malbec, or Shiraz. Each of these wines features higher tannin levels that complement the fattiness of the meats.
BBQ Chicken Pizza
Sweet and savory and so good! Our BBQ Chicken Pizza features smoked bacon, sliced red onions, and of course – barbeque chicken. Our hand-tossed crust provides the perfect base for this Southern-style pizza.
Wine pairings: A fruity red wine is great with the sweet, smoky flavors of this pizza. Look for a Merlot or Pinot Noir that will bring out the best flavors in the pizza and wine. Really want to drink white wine? This pizza also works with a dry Chardonnay.
Order Pizza Tonight at State & Allen Kitchen + Bar
When you want the best food in Dallas, come see us at State & Allen! Everything from pizzas, to salads, to sandwiches, bistro favorites, and more – we have you covered. Come have a pizza and wine night with us this week.