The Best Events In Uptown In March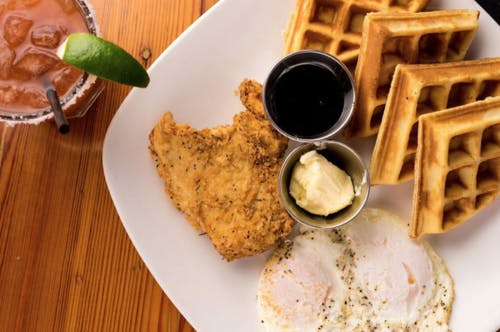 March is known for madness around DFW! With all the recent snow and ice, we're kicking off the new month in a special way at State & Allen. Looking for a way to stay warm? Come by State & Allen on March 12th from 11 am - 1 pm to indulge in our Build Your Own Teeling Irish Whiskey Coffee Bar event for only $5! Nothing goes together better than whiskey and coffee! This event is the perfect way to kick off all of the upcoming St. Patrick's Day events in Dallas!
Best Fish & Chips in Dallas for Lent
March 2nd is the beginning of Lent for those who practice! Our chef has ordered extra fish just for the occasion. From our Crispy Shrimp Silver Bowl to our Crab Crusted Salmon, we've got you covered with lots of seafood options through Lent season. We'll be serving up the best fish in Dallas, and you don't wanna miss it. Every Friday we offer our ish & Chips Special, and of course, our all-day happy hour featuring Pendleton Whiskey or Camarena Tequila for $4.50.
Best Brunch in Uptown
Guess what else is right around the corner? Save the date, International Waffle Day is on Friday, March 25th. We plan to celebrate big! At State & Allen, we'll be serving our famous Chicken and Waffles all day long for International Waffle Day on March 25th! Our Chicken and Waffle recipe is one of a kind, made with our crispy chicken breast, a Belgian waffle, two eggs, whipped butter, and warm maple syrup. Reserve your table today! (Link to website)
Scotch at State & Allen
It's true we're whiskey lovers, but we've recently added a robust scotch selection to our menu.
Check out what's on our Scotch Menu:
GLENLIVET 12
DEWARS WHITE LABEL
JOHNNIE WALKER BLACK
JOHNNIE WALKER RED
MACALLAN 12
Pair your scotch with one of our yummy appetizers! From Bison Meatballs, to our famous Crab Dip, and even our Charcuterie Board, there's a little something for everyone at State & Allen.
BISON MEATBALLS
cranberry-pistachio chutney, goat cheese, gremolata, whole wheat pita
CRISPY CALAMARI
lightly spiced, giardiniera, sweet chili, cilantro ranch
TRIPLE DIP
hummus, spinach artichoke dip, brick oven crab dip, pita, tortilla chips
BRICK OVEN CRAB DIP
spiced crackers, tortilla chips
S&A CHICKEN STRIPS
crispy marinated chicken strips rolled in nine herbs & spices
CHEESEBOARD
artisanal cheese, pickled blueberries, candied pecans, grapes, local honey, crackers
CHARCUTERIE BOARD
artisanal meat, gherkins, local honey, s&a mustard, bread & crackers
The Best Happy Hour in Dallas
You're invited to the best happy hour in Uptown! Come by Monday through Friday from 3 pm to 7 pm to take advantage of our awesome drinks specials. We also celebrate Wine Wednesday, it's sort of our thing! Every Wednesday all wine is half-priced. Bring your friends, grab a glass of wine, and take a seat at the bar or hang out on the relaxing patio.
Best Happy Hour Specials in Uptown
BEER BY THE CAN $3.50
Bud Light, Budweiser, Coors Light, Miller Lite
PENDLETON WHISKEY AND CAMARENA TEQUILA $4.50
HOUSE RED, WHITE, OR ROSE $4.50
We've got a lot to look forward to this month! Come see us at State & Allen in Uptown to build your own boozy coffee and celebrate International Waffle Day the right way. Reserve your table today to get in on all the fun! (link to website)