The Best Place in Dallas to Watch the Dallas Cowboys Game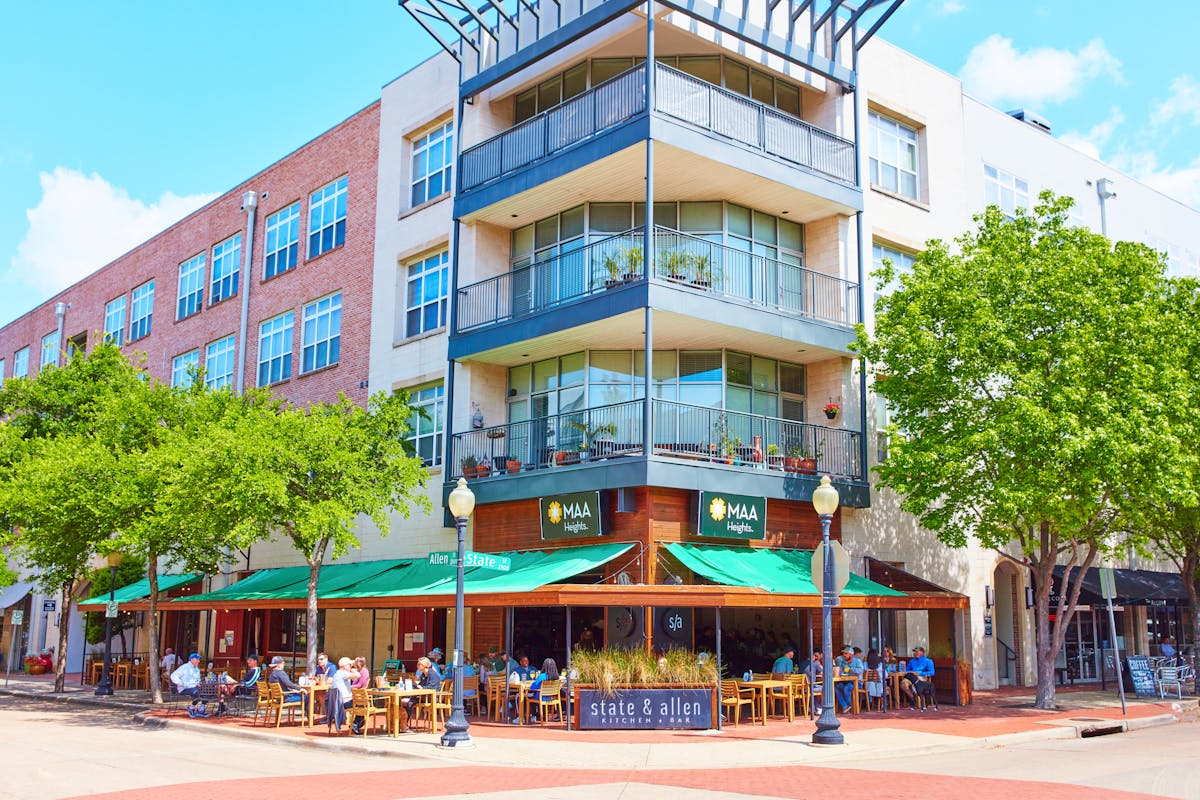 The Best Place in Dallas to Watch the Dallas Cowboys Game
What's a great way to kick off the football season here in DFW? The temperature and humidity are finally dropping and we know the best place to watch the Cowboys game is in Uptown at State & Allen! Ideal for watching the big game, we have a scratch kitchen with an upbeat atmosphere and a breezy street side patio. Don't forget our event space is the perfect place to invite all your family and friends to celebrate the next big win. At State & Allen, we are known for our game day snacks, drink specials, and more!
Delicious Game Day Food!
We all know that game day is not really game day without some good food to snack on. It's no secret that a few of us only watch football for the delicious food, and our game day classics sure won't disappoint. From chicken strips to craft pizza, we sure do appreciate finger foods! Below are some of our most popular game day dishes:
S&A CHICKEN STRIPS
crispy marinated chicken strips rolled in nine herbs & spices
CRISPY CALAMARI
lightly spiced, giardiniera, sweet chili, cilantro ranch
BUFFALO CHICKEN
crispy chicken breast tossed in sweet cayenne sauce, challah bun, side of blue cheese dressing
SMOKED TURKEY CLUB
house-smoked turkey, lettuce, bacon, avocado, swiss, cranberry mayo, artisanal whole wheat bread
SMOKED BRISKET PASTRAMI
kraut, swiss, s&a mustard, toasted rye
BACON AVOCADO BURGER
signature beef patty [ground brisket, veal, chuck], bacon, avocado, cheddar cheese, challah bun
CLASSIC PEPPERONI
mozzarella, pepperoni
FOUR-CHEESE
mozzarella, parmesan, ricotta salata, gouda
TEXAN SUPREME
chorizo, tomato, caramelized poblano & onion, black olive, cheddar, jack
MARGHERITA
fresh mozzarella, fresh tomato, fresh basil
THE WHITE
truffle béchamel, chicken, spinach, mushrooms, balsamic shallots, balsamic reduction
MEATY MEAT
ground beef, jimmy's sausage, pepperoni, ham
BBQ CHICKEN
bbq sauce, fresh red onions, smoked bacon
We may be a bit biased, but we think State & Allen is the best restaurant in Dallas to watch the Cowboys game. Our bar and scratch kitchen located in Uptown serves up the coldest drinks and fresh food made with the highest quality ingredients. Book your reservation to save your spot today!