The Best Place in Dallas to Watch the Dallas Cowboys Game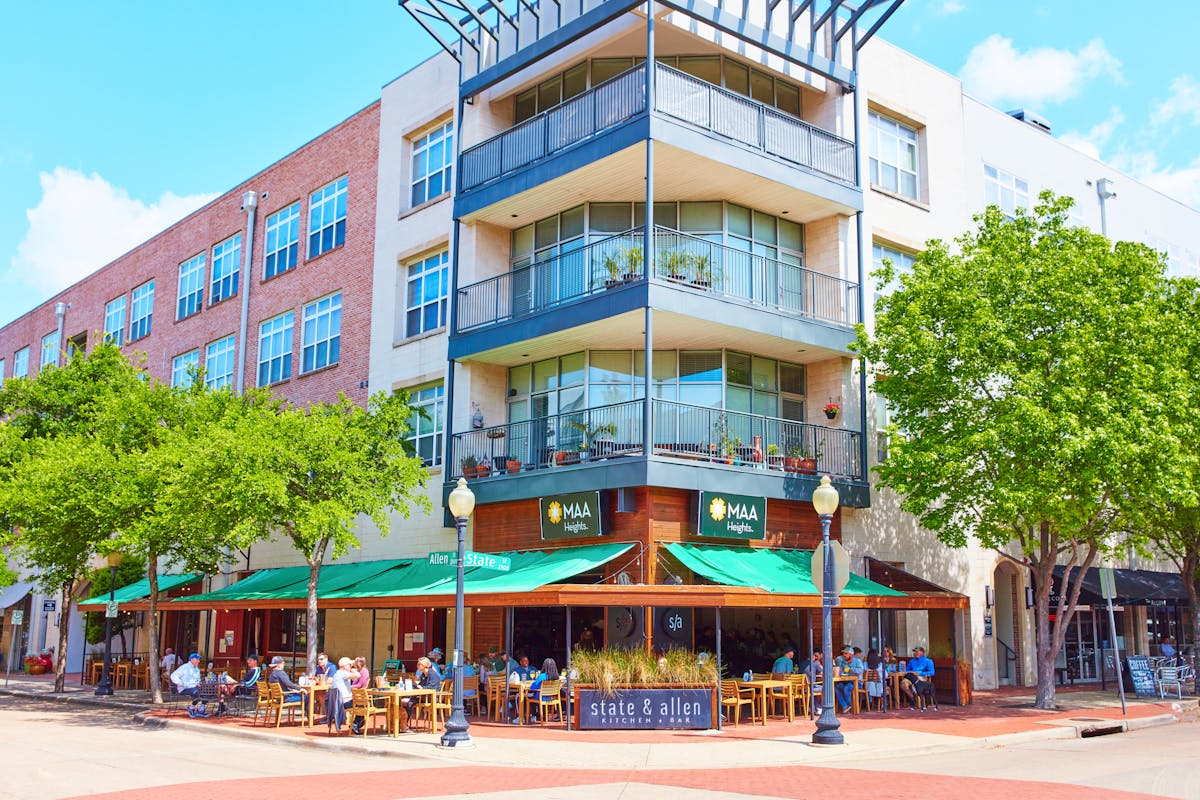 The Best Place in Dallas to Watch the Dallas Cowboys Game
Have you heard the latest and greatest Dallas Cowboys News?! That's right our Dallas Cowboys are 5-1! What a great way to kick off the football season here in DFW. The temperature and humidity are finally dropping and we know the best place to watch the Cowboys game is in Uptown at State & Allen. A scratch kitchen with an upbeat bar and restaurant right in the heart of Dallas with a breezy streetside patio. Don't forget our event space is the perfect place to invite all your family and friends to celebrate the next big win. At State & Allen, we are known for our game day snacks, drink specials, and more!
We all know that game day is not really game day without some good food to snack on. It's no secret that a few of us only watch football for the tasty food, and our game day classics sure won't disappoint. From chicken strips to artisan craft pizza, we sure do appreciate finger foods!
S&A CHICKEN STRIPS
crispy marinated chicken strips rolled in nine herbs & spices
CRISPY CALAMARI
lightly spiced, giardiniera, sweet chili, cilantro ranch
BUFFALO CHICKEN
crispy chicken breast tossed in sweet cayenne sauce, challah bun, side of blue cheese dressing
SMOKED TURKEY CLUB
house-smoked turkey, lettuce, bacon, avocado, swiss, cranberry mayo, artisanal whole wheat bread
SMOKED BRISKET PASTRAMI
kraut, swiss, s&a mustard, toasted rye
BACON AVOCADO BURGER
signature beef patty [ground brisket, veal, chuck], bacon, avocado, cheddar cheese, challah bun
CLASSIC PEPPERONI
mozzarella, pepperoni
FOUR-CHEESE
mozzarella, parmesan, ricotta salata, gouda
TEXAN SUPREME
chorizo, tomato, caramelized poblano & onion, black olive, cheddar, jack
MARGHERITA
fresh mozzarella, fresh tomato, fresh basil
THE WHITE
truffle béchamel, chicken, spinach, mushrooms, balsamic shallots, balsamic reduction
MEATY MEAT
ground beef, jimmy's sausage, pepperoni, ham
BBQ CHICKEN
bbq sauce, fresh red onions, smoked bacon
Our game day drinks will keep you coming back for more. From a cold beer to unique whiskey selections, or even a few cocktails we have something for everyone.
AUSTIN EASTCIDERS
Original Cider 5% ABV
BISHOP CREEK CIDER
Crackberry 6% ABV
OKTOBERFEST MARZEN
Rahr's& Sons Brewing Company 6.7% ABV
Cocktails
APPLE JACK
Apple pie old fashioned - bulleit bourbon infused with cinnamon and granny smith apples
ESPRESSO MARTINI
Van Gough Espresso Vodka, Blue Island Cold Brew & Velvet Disaronno Cream Liquer
S&A SPRITZ
Grey Goose Vodka, blood orange, Aperol, lemon, simple syrup, topped with champagne and an orange twist
We are all about the game day specials! Join us for the best brunch in Dallas every weekend! Our brunch drink specials are unbeatable.
SUNDAY
wells $3.50
(only available after brunch)
BRUNCH SPECIALS
mimosas
(glass) $4.00
(bottle) $20.00
breakfast drinks $4.50
screwdriver, greyhound, bloody mary, tequila sunrise
We offer a $5 whiskey list all day, every day! No matter if the Dallas Cowboys are playing Thursday night football or a Sunday afternoon game, our $5 whiskey is one of the best drink specials in Uptown! We serve it up any way you like it: straight, on the rocks, or as a shot.
Our Famous $5 Whiskeys
Buffalo Trace
Bulleit Rye
Crown Royal
Highwest Double Rye
Pendleton
Knob Creek
Makers Mark
Redemption Rye
Still Austin Bourbon
Slow & Low
Teeling Small Batch
1792 Bourbon
Texican Thursday
Thursday night football?! We got you covered with Texican Thursdays. Every Thursday our well mules are only $5.00! Grab a $5 mule and a comfy seat at our bar to experience the best place to watch the Cowboys game in Uptown!
Dallas Cowboys Schedule
If you're looking for the best place in Dallas to watch the Cowboys game, State & Allen has you covered! Whether it's Sunday Funday or Thirsty Thursday, check out the Dallas Cowboys Schedule below to plan your next game day fun.
Sunday, Oct. 31st vs Minnesota at 7:20 pm
Sunday, Nov. 7th vs Denver at 12 pm
Sunday, Nov. 14th vs Atlanta at 12 pm
Sunday, Nov. 21st vs Kansas City at 3:25 pm
Thursday, Nov. 25th vs Los Angeles at 3:30 pm
Thursday, Dec. 2nd vs New Orleans at 7:20 pm
Sunday, Dec. 12th vs Washington at 12 pm
Sunday, Dec. 19th vs New York at 12 pm
Sunday, Dec. 26th vs Washington at 7:20 pm
Sunday, Jan. 2nd vs Arizona at 12 pm
Sunday, Jan. 9th vs Philadelphia at 12 pm
We may be a bit biased, but we think State & Allen is the best restaurant in Dallas to watch the Cowboys game. Our bar and scratch kitchen located in Uptown serves up the coldest drinks and fresh food made with the highest quality ingredients. Book your reservation to save your spot today!