How to Make the Most Amazing Bloody Mary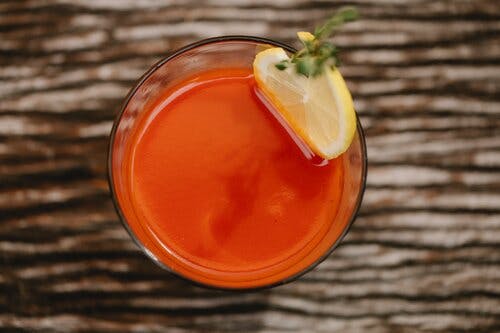 How to Make the Most Amazing Bloody Mary
If you can't make it out to see us at State & Allen, you can always make a stellar Bloody Mary at home. Want a few tips and tricks? Read on to learn a few insider secrets on how to make the most amazing Bloody Marys in Dallas:
Use Fresh Lemons
No matter how you start your Bloody Mary, be sure to buy a few fresh lemons to squirt in – no prepackaged lemon juice! The lemons add a fresh tanginess to any Bloody Mary, particularly if you started with a mix. Fresh lemon juice has a way of brightening any drink, Bloody Marys included.
Don't Skimp on Tomato Juice
Look – we get it. Sometimes generic is just as good as the name brand, but this is a case when you want to make sure you're buying a premium tomato juice. Tomato juice is one of the key ingredients of your Bloody Mary and skimping could affect the overall flavor.
Skip the Expensive Vodka
On the other hand, there is no need to include an expensive vodka in your beverage. Bloody Marys have an intense flavor – packed full of spices, tanginess, and more. Those flavors generally hide the vodka flavor altogether, making it a waste to splurge on an expensive liquor.
Celery is a Must
Sure, you have seen celery as a garnish to a Bloody Mary, but did you know that it adds more than just a pretty presentation? The flavor of the celery compliments the tomato juice and can be enhanced with celery seed or celery salt as well.
Always Include Ice
Bloody Marys are one of those drinks that are best enjoyed fresh and cold, and that's where ice comes into play. Ice helps prevent the acidity of the tomato juice from breaking down the flavor profile of the drink too quickly, maintaining a fresh and delicious cocktail every time.
Get Saucy
Another "must-have" is a great sauce to really accentuate the flavors! Depending on what you're looking for, Worcestershire sauce, Siracha sauce, horseradish, or Tabasco sauce are all great options. When you're done adding it, don't forget to add salt and pepper too!
Join State & Allen for Amazing Bloody Marys in Dallas!
Not up to making one at home? Then it's time to head over to State & Allen Kitchen + Bar. We offer an amazing brunch menu, featuring our delicious Bloody Mary. You can also enjoy favorites like our Chicken & Waffles, Eggwich sandwich, Breakfast Pizza, Steak & Eggs, and more! We can't wait to see you any weekend – Saturday or Sunday from 10am-3pm.